In the final week of Term 1, Years 11 and 12 IB visual art students visited the ART EXPRESS exhibition at the AGNSW. The first ever ARTEXPRESS exhibition at the Art Gallery of New South Wales was held in 1983.
The exhibition is still going strong, and it is often the highlight of the year for many gallery goers. It is an annual exhibition featuring a selection of outstanding student artworks developed for the artmaking component of the HSC examination in visual arts in NSW. It includes a broad range of approaches and expressive forms, including ceramics, collection of works, documented forms, drawing, graphic design, painting, photomedia, printmaking, sculpture, textiles and fibre, and time-based forms. These are all forms, which our own IB students must show evidence of in their process portfolios during their IB art journey.
GISS students used the morning to look for inspiration and were asked to consider the following questions:
Which works are you drawn to and why? Explain how they resonate with you, how they make you feel, describe what you like about them, what techniques have been used, what do you think the artist is trying to communicate with you?
When you read the artists statements, does it help you to understand the work? Were you able to appreciate the work without having read the exhibition text? Did the text give you more insight into the artist's intentions? Did reading the texts after you looked at the work affect your response?
Make a list of all the different mediums which have been used in the student art works. How many did you find? Now list those mediums which you would like to try out.
Year 12, think about your own studio work and imagine how it will look in our exhibition. Write down at least three ideas you can take away from the Art Express exhibition e.g., Improvements and amendments to a certain work inspired by something you have seen, ideas about framing, presentation, and curation. Ideas about how to write your own exhibition texts.
Year 11, think about the themes and imagery in the bodies of work you can see in Art Express. Are there any reoccurring themes? What are these artists passionate about? What is important to them? What narratives are being told? Write down at least three topics which you could imagine making a body of work about.
Take photos and make notes of the works which interest you. Be prepared to share your photos and reflections in a class discussion during the next art lesson at school.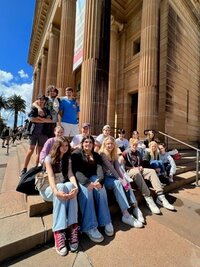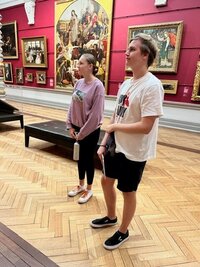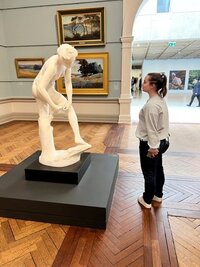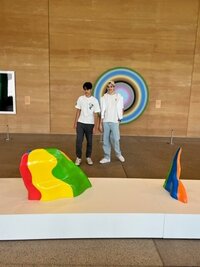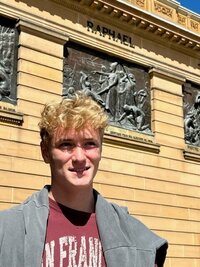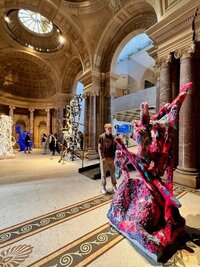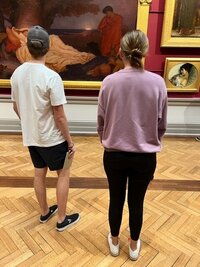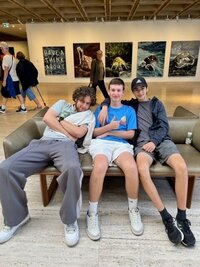 After looking at the Art Express exhibition, the students had some free time to wander around the permanent collect at the gallery and also take a look inside the new Sydney Modern Project. This new wing has transformed the Art Gallery of New South Wales into a unique art museum campus with two buildings and an art garden, on Gadigal Country, overlooking one of the world's most beautiful harbours. However, despite the views, the outdoor terraces and huge exhibition spaces filled with an abundance of natural light, many of the students most enjoyed the lowest level of the new north building, which is a reclaimed underground fuel bunker for storing oil built during World War II and previously inaccessible to the public. The dark eerie bunker currently shows an installation by Adrián Villar Rojas: The End of Imagination, which is a series of time-travelling sculptural forms in a darkened and dramatic space.The students had a great day, and if you haven't had a chance to check out the Sydney Modern yet, our GISS visual art students highly recommend it. - Nicola Hartley